Montana 2023 is in the works. Here are the details you've been waiting for!
STITCH AND SIGHTSEE IN MONTANA 2023 PROMISES TO BE ANOTHER FABULOUS, FRIEND-FILLED, REFRESHING, FUN, CREATIVE AND ENRICHING RETREAT!
June 1 – 8 2023
The Lodge at Whitefish Lake
Whitefish, Montana
Class canvas:
Mountain Escape by Cindy Lindgren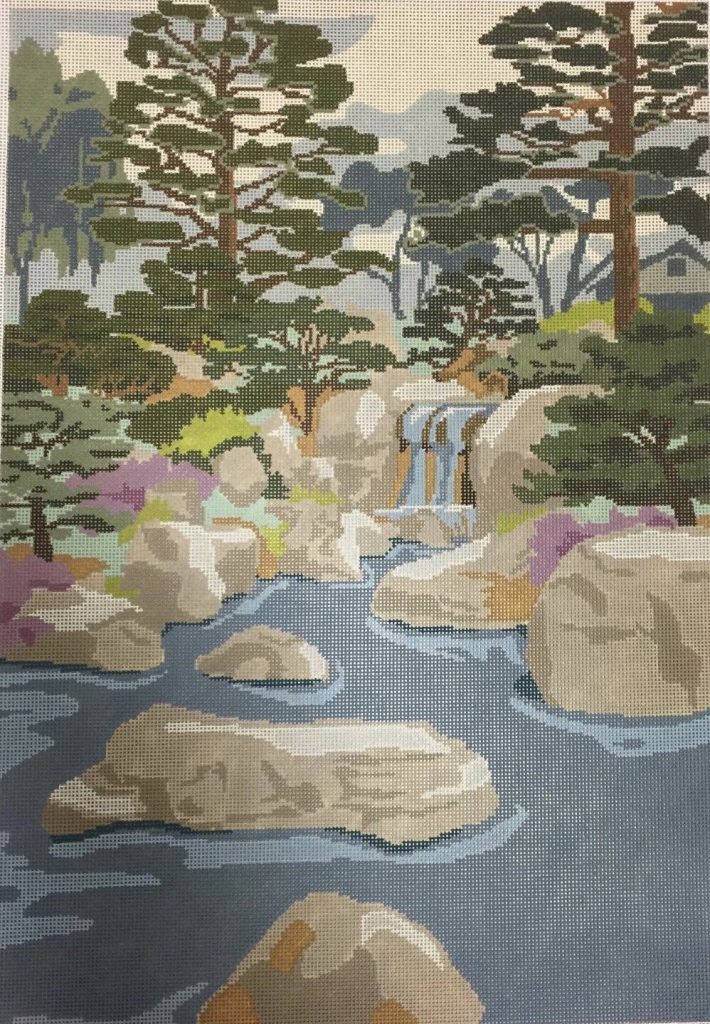 This tranquil scene is an absolute beauty. Without altering the serene nature of the piece, I'll be adding just a bit more color, a little silk ribbon where you might not expect it and some fresh texture to surprise you. Fun stitches and great threads will make it a canvas you will want to stitch to completion!
Design size is 11″ x 16″ on 13 mesh or 18 mesh – you get to choose!
Talk about a great experience! Here's what you'll get to enjoy:
Stay at the gorgeous Lodge at Whitefish Lake in Whitefish, Montana
Welcome Reception
Kick-off Breakfast
3 Full Days of Needlepoint Class with Laura Taylor, and Fay Haverly, as Teaching Assistant
Complete Needlepoint Kit for the project – Mountain Escape from 3K Designs
Catered Lunch on each day of class
Stitch with new friends and forever friends
Stitching tools and lots of gifts created just for this class
Half day of Canvas Embellishment or Trouble-Shooting with Laura Taylor. This can be your class piece or any piece you wish to work on. This is for on-site participants only and is included in the Stitch and SightSee price.
A block of rooms has been set aside at the Lodge at Whitefish Lake.
Room rates range from $207 to $399 per night, depending on location, bed type and view. Tax and local accommodation taxes are additional. The Lodge is ready to accept reservations. You will be given the reservation code when your deposit is received. Don't delay in making room reservations. Rooms are booked first come/first served.
You will need a special code to receive the discounted room rates. I will provide that only after your deposit is received.
We are going to SightSee!
The SightSee portion of the retreat will be planned later this year or early 2023. In the past, activities have included a visit to a local ranch for a trail ride and bbq dinner with live entertainment, a chance to try some ranch games and get up close and personal with some ranch animals, a tour of Glacier National Park aboard the Historic Red Buses, an evening crafting at a local art studio, Sunset Cruise on Whitefish Lake, a night at the rodeo, and lots of other adventures. I will notify each registered participant of the activities planned for 2023 including the cost to participate, which is additional to the Stitch and SightSee fee. These activities are optional, so you'll have the choice whether or not you wish to join the fun.
Most important, we will enjoy another top-notch needlepoint experience and getaway!
Important Note!
Each participant is expected to be fully vaccinated prior to the retreat. Live demonstrations will be viewed on a large screen.
Cost for Stitch and SightSee in Montana 2023: $2350.00
This includes all teaching fees and expenses associated with needlepoint class, meeting space, welcome reception, kick off breakfast, lunches and dessert on class days for one participant. Guests may join for non-needlepoint events at an additional fee.
What's not included?
Airfare, ground transportation, hotel and associated charges, gratuities, meals (except welcome reception, kick off breakfast, lunches and dessert on 3 class days), tours and additional events.
Can't make it to Montana but don't want to miss out?
Synchronized Stitching!
Once again, I will teach the retreat piece in person, in Whitefish and simultaneously on Zoom for the ultimate integrated needlepoint experience. The Zoom experience will be limited to 15 participants.
Cost to participate in Stitch and SightSee in Montana on Zoom 2023: $1375.00
This includes the canvas, complete thread and bead kit, stretcher bars and tacks, custom spiral bound stitch guide written by me, all teaching fees, all of the amazing goodies and gifts we give to on-site participants and shipping.
Want to attend in person or on Zoom?? Sign up right away!
Here's what you need to do:
Email your confirmation to Laura@LauraTaylorAtHome.com
Please include your shipping address and your choice of 13 mesh or 18 mesh canvas.
Send your non-refundable $900 deposit now to join us in Montana:
or
Send your non-refundable $450 deposit now to join us on Zoom:
Electronic payments: please send friend-to-friend and include travel reimbursement in the memo, or add 3% of the total to your payment
Venmo: Laura-Taylor-333
Zelle: (818)746-7290
Paypal: Laura@LauraTaylorAtHome.com
or Mail a Check:  Laura Taylor, 4343 Natoma Avenue, Woodland Hills, CA 91364
The balance will be due by April 1, 2023.
Please note:  In the event the retreat cannot take place due to government restrictions on travel or group events, the stitching class will take place virtually on Zoom. In that case, all materials will be mailed to each participant.
Due to the custom nature of many of the items that we order for this event, refunds cannot be given if you decide not to attend. However, should Laura Taylor cancel, your payment, less fees for needlepoint supplies and costs, will be refunded in full.
Check out some of the fun we had!