Needlepoint Classes with Laura Taylor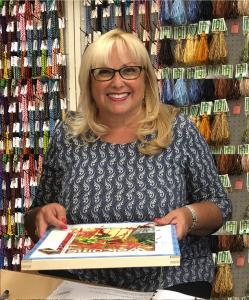 Stitching at a Distance
The rapid pivot from in-person events to the virtual platform made one thing very clear – people love to take classes from the comfort of their own home! I am overjoyed with the response to our new normal and thrilled that needlepoint classes on Zoom have become a welcome addition to stitchers' routines and daily activities.
My plan is to keep you stitching, whether in person or through the computer. I am happy to continue to use Zoom to provide weekly Stitch Development classes as well as project and technique workshops, in addition to group classes at Aristeia and out-of-town shops.
Weekly Stitch Development Classes
Email me at laura@laurataylorathome.com to sign up for a monthly session of Stitch Development.
Each class member brings their own canvas. We'll work out stitches and thread suggestions during class so you can move forward with your project. Groups range from 8 – 10 participants. It's productive, fun and keeps you connected with other stitchers!
Sessions
(all times are listed in Pacific time)
Tuesdays:
11:30am – 1:00pm or 2:00pm – 3:30pm or 4:00pm – 5:30pm
Wednesdays:
11:00am – 12:30pm or 2:30pm – 4:00pm or 5:00pm – 6:30pm
Fridays:
10:00am – 11:30am or 12:30pm – 2:00pm or 2:30pm – 4:00pm
Class fees for Stitch Development are paid monthly, $30 per week.
Payment may be made via Venmo, Zelle or Personal Check. Please confirm that space is available in class before sending payment.
Contact Laura for Class availability!
Email Laura@LauraTayloratHome.com
Coming Up Soon
It's always fun and a little bit challenging to select a few fantastic canvases to focus on for project classes, where every stitcher works on the same thing. My goal is to provide a fresh experience, with new techniques, stitches and threads on a canvas that is sure to delight.
These classes are offered on Zoom, so you don't need to travel to participate. All you need is a great Wi-Fi connection.
December 2 – 3
Virtual Class on Zoom
Project: Spring, Summer, Autumn or Winter Window Box
from PLD Designs
Sign up Now!
Email Laura@LauraTaylorAtHome.com